To help others safely reach physical and mental happiness through the use of Pilates, yoga, and occupational therapy techniques.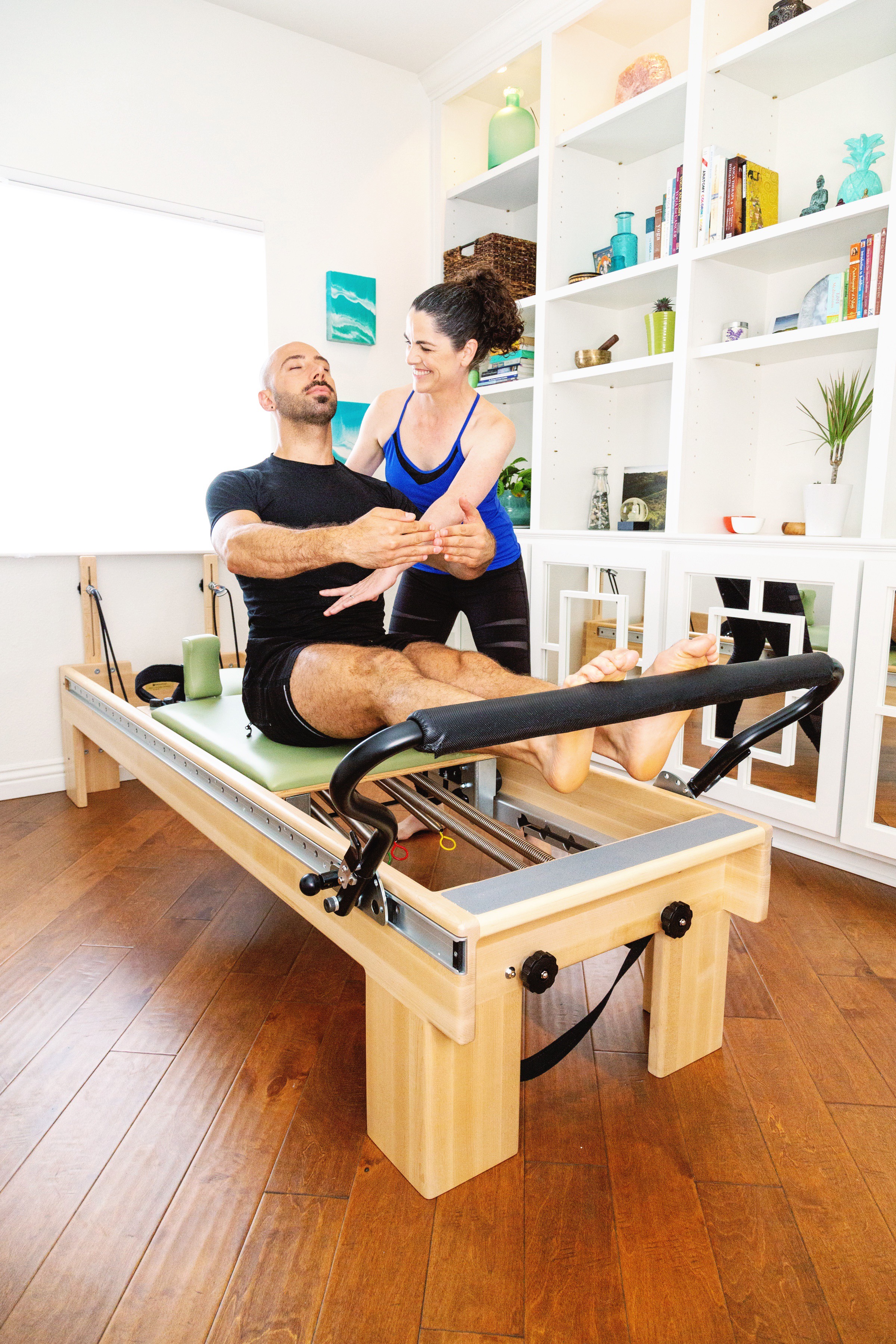 About Rebecca
Rebecca has had a lifelong passion for the art of physical movement and bringing wellness to others. She has had careers as a professional dancer, yoga teacher, Occupational Therapist, and massage therapist.
Neck injuries as a dancer and a shoulder injury from a car accident led her to discover the rehabilitative magic of Pilates. Through Pilates exercises (and physical therapy), she now feels stronger than ever and has reclaimed her "dancer body," 20 yrs after her career as a professional dancer!
In her Pilates training, Rebecca studied the classical repertoire of mat, reformer, Cadillac and Wunda chair exercises plus contemporary exercises. She is a certified Pilates Instructor from 2nd generation teacher Juliet Kaska of JK Zen Fitness.
With 13 years of experience as an Occupational Therapist in physical rehabilitation plus the combined healing powers of yoga and pilates, Rebecca has the unique ability to guide you back to physical health and help you transform your body safely! Her methods are gentle but strong. Pilates exercises are low impact and therefore safer than other forms of exercise when given mindfully by a skilled practitioner.
Allow Rebecca to bring physical happiness back in your life!
Specialties
Pre- and Post-Natal Conditioning

Neurological Conditions, such as MS or Parkinson's

Cancer Treatment Recovery

Osteoporosis and Osteopenia
Injury Prevention and Recovery

Chronic Pain

Spinal Herniations and Chronic Neck/Back Pain

Knee, Hip, Shoulder Surgery Rehab
Rebecca is awesome! I am a first timer in Pilates and she really guided me through everything. I needed a low impact workout due to injuries and chronic illness. Her background in Yoga really helped me work through some stubborn flexibility issues. An added bonus was her extensive experience as a healthcare worker in rehab settings, specifically she's an licensed Occupational Therapist. She was able to take what my Physical Therapist was doing and really target the right muscles for maximum progress. She knows anatomy and the muscular skeletal system like no other fitness instructor I have ever had. Plus, she knows how to give a great workout. I couldn't be happier with the results.
Lisa B.
Thanks so much for being such an AMAZING pilates instructor! You introduced me to the practice of pilates, and I find myself strongest and more tone at close to 50 years old, than ever before in my life. Thank you so much for being so attentive to detail, thorough in your instruction and motivational with your super positive attitude!!!! I would, and have, highly recommended you to others as a FANTASTIC pilates instructor!
Ellen S.
After 9 months of dealing with two herniated discs and an annular tear I was just about ready to give up. I tried three epidural injections, massage, physical therapy sessions, medication..nothing was making the pain go away. After just the first few sessions I noticed real pain relief. Relief I hadn't felt in a really long time. Rebecca is so cautious, so, so knowledgeable and such an amazing instructor. I can't thank her enough for helping me finally overcome my injury.
Bobby S.
Rebecca teaches 1-on-1 privates and duets (2 clients) in a serene studio space, where other private lessons occur.
A more private, exclusive studio is also available. Equipment includes: reformers, Cadillacs, Wunda Chairs, and mats. Both locations are conveniently located in the heart of West Hollywood / Beverly Hills making Metta Pilates accessible to clients in the Century City, West Hollywood, Bel-Air, Santa Monica, Brentwood, West LA and the Greater Los Angeles Area. Validated and/or free parking available at each location.
Is Pilates safe?
Pilates was originally designed to rehabilitate wounded soldiers so it can be a safe and very effective way to build strength, flexibility, and balance in the body. It is traditionally low impact, and all exercises can be modified to an individuals needs using props and changes in positioning. As an Occupational Therapist, Rebecca is accustomed to modifying exercises to fit clients with a variety of injuries, illnesses, or different body types.

Would I work on a machine or on the floor?
We may use a combination of Mat, Reformer, Cadillac, and Wunda Chair exercises depending on your goals and preferences.
What do I wear?
Form fitting clothing is preferred so I can see your alignment, but be comfortable!
Wear stretchable, workout clothing. Please avoid zippers, buttons, or studs as they can puncture and damage the fabric on the reformer. You can be barefoot or use sticky socks.
Private
Single class: $100
5 classes: $450
10 classes: $800
Duet
Single class: $120
5 classes: $550
10 classes: $1,000
New Students: 50% off 1st intro class during October!
Followed by 3 private classes: $180
*All class packages must be used within 6 months.